There is always music amongst the trees in the garden, but our hearts must be very quiet to hear it.
Minnie Aumonier
Request a Catalog
Why Garden with Native Plants
How to Create a Meadow
Wildflowers and Bees
About our Plants
Shipping
How to Order
Gift Certificate
Contact Toadshade
Invasive Species References
Favorite Wildflower Sites
Follow Us on Facebook

All plants propagated in
Frenchtown, NJ


Latest Information
This Saturday, May 15, we will be at Pennington Day from 10 to 4. We will bring an especially wide variety of native plants and seeds. Having been at this event for the past few years we can assure you that there is a lot to see, do, learn, and shop for. There is even an entire section, called Green Street, that is dedicated to green vendors. If you stop by look for us on Green Street!
This Sunday, May 17, will be the grand opening of the Hunterdon Land Trust Farmer's Market! We will be there with a wide variety of native plants and seeds. The market runs from 9 to 1 each week.
There is still time to catch Randi at:
May 16th, Pennington Day, Pennington, NJ
June 12-13th, Union Co. BioBlitz, Watchung Reservation


You might have recently seen Randi at:
May 2nd, Native Plant Sale, Mananda Conservancy, Hummelstown, PA
April 23rd, Annual meeting of the Neshanic Valley Garden Club at the Neshanic Valley Golf Club : 'Landscaping with Colorful Native Plants' (Neshanic Station, NJ)
March 26th at the South Mountain Conservancy New Jersey: 'Native Plants and the Creatures that Love them' (Maplewood, NJ)
April 14th, the Contemporary Garden Club of Princeton on 'Everything Old is New Again: Perennial Native Plants for Garden, Field and Forest' (Hopewell NJ)
April 15th, 2 lectures to the GCNJ 2015 Landscape Design School at Rutgers University: 'Parks, Playgrounds & Conservation Areas' and 'Bird and Butterfly Gardens' (New Brunswick, NJ)


Our website lists plants and seeds that are currently available and it will be updated when additional species become available.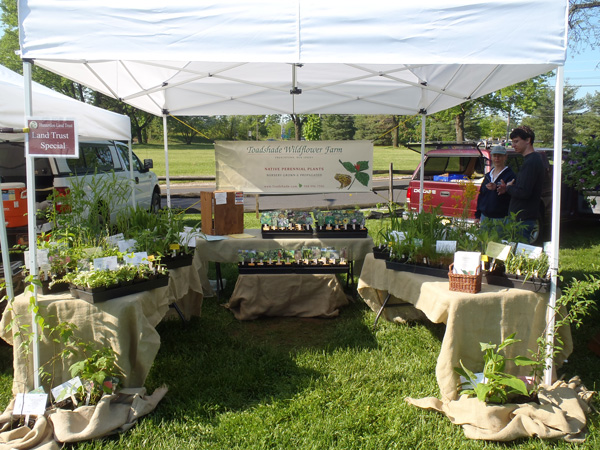 If you have any particular native plants that you're looking for contact us. We always have new species coming along, so we may have what you are looking for (in small numbers.) If we don't have it, we'll try to add it to a future catalogue!
About Toadshade Wildflower Farm
We started Toadshade Wildflower Farm to make native wildflowers, particularly perennials, more easily available. Our intention is to 1) provide native, perennial, propagated wildflower plants, 2) identify available plants clearly by both common and scientific name, and 3) clearly summarize the native range and growth requirements of the wildflowers for sale.
Accordingly, all of the plants that we offer are native (not alien, introduced, or naturalized) as well as we can determine. We propagate them all ourselves - no plants are dug from the wild! We have tried to list the most often used common names, the scientific names, the preferred growth habit, and the native range based on information from a number of sources (see references below). I would encourage you to try plants that are native to your area. Planted within their native ranges, in sites appropriate to them, native perennial wildflowers will thrive and provide lasting color and interest for years to come.
When buying wildflowers, make sure they are propagated, not removed from the wild! If you have any doubt, ask! Some plant species have been driven to extinction in the wild due to the collection of wild plants!