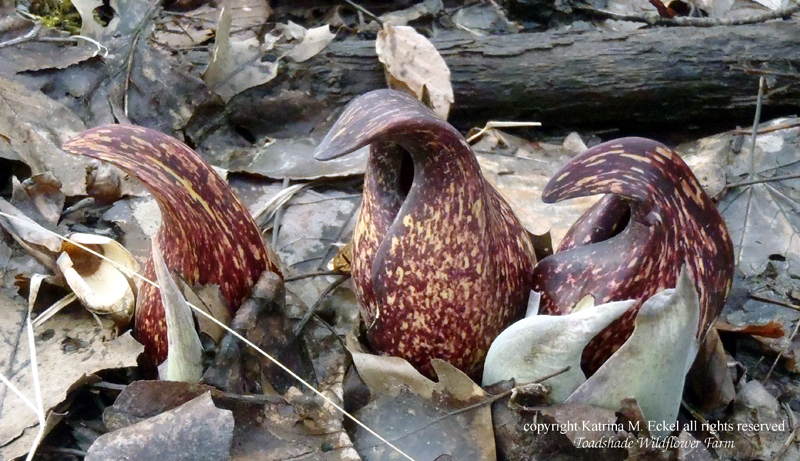 Fantastic burgundy and green hoods up to 6 inch tall shelter the flowers as early as February (!), our earliest spring wildflower - they actually produce heat which melts snow and attracts pollinators of all kinds, attracts bees (great warmth and pollen source for early season foraging honey bees), huge rounded leaves (up to 2 foot) unfurl in mid-spring, Ruby Tiger Moth (Phragmatobia fuliginosa) host plant. Despite the name, this plant only 'stinks' if you either stick your nose right up to a flower or if you break the sturdy midvein in one of the large leaves. Great moist woodland groundcover. Note: mature plants have truly enormous root systems, so our plants are sold young - an ideal size to establish in the garden.

1-3 foot tall
Plant Hardiness Zones: 3a-7b
Perrenial
Deer Resistant
Native Range: NS & PEI, west through s. ON to MN, south to NC
Skunk Cabbage in a quart pot $15.50 (Temporarily Sold Out*)

*We normally carry this item but are temporarily sold out. We expect to have it available again as soon as our plants in production reach sufficient size/maturity or we harvest more seed. In some cases, plants may be recovering from caterpillar damage (Monarchs love our Milkweed), wind or hail damage, rampaging woodchucks, downed trees, or other natural issues. We are constantly updating our web site so please check back again.
Review or Finalize Your Order