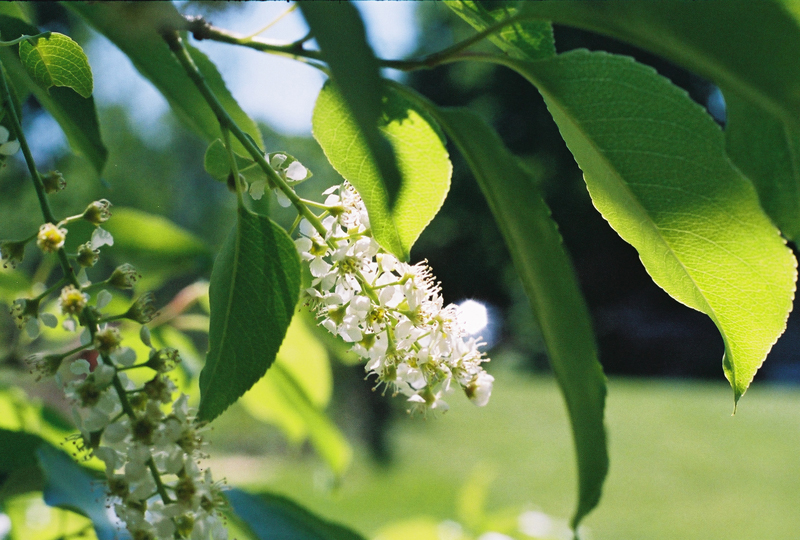 Large oval-headed tree with arching branches covered with 5 inch long streamers of white flowers from May through June , 1/3 inch fruits turn from green thru red to black & are an important source of food for birds (turkey, ruffed grouse, bobwhite, catbirds, waxwings!.) & other wildlife (rabbits, fox, squirrels!) in the fall when they ripen, long finely toothed glossy leaves turn yellow, red & orange in the fall, scaley dark bark of mature trees is interesting all year long, twigs have reddish bark, heat & drought tolerant, nice cut flowers, nectar source for butterflies & bees (including honey bees), excellent wood for woodworking & furniture, bitter-sweet fruit can be used in making jelly & wine, suitable for bonsai(!), food plant for more than 30 species of butterflies & moths including the Viceroy (Limenitis archippus), Columbia silkmoth (Hyalophora columbia), Eastern Tiger Swallowtail (Papilio glaucus), Red Spotted Purple (Limenitis arthemis astyanax), Promethea Silkmoth (Callosamia promethea) and Coral Hairstreak (Satyrium titus) caterpillars.

40 to 60 foot tall & 20 to 30 foot wide
Plant Hardiness Zones: 4a-8b
Tree

Native Range: NS, s. QC & ON south to c. FL & AZ, with populations in BC as well
Germination - Difficult: Soak for 1 day, cold stratify 12 weeks, sow > 0.5" deep, keep moist.
Wild Black Cherry
Seed Packet
$4.00
*We normally carry this item but are temporarily sold out. We expect to have it available again as soon as our plants in production reach sufficient size/maturity or we harvest more seed. In some cases, plants may be recovering from caterpillar damage (Monarchs love our Milkweed), wind or hail damage, rampaging woodchucks, downed trees, or other natural issues. We are constantly updating our web site so please check back again.
Review or Finalize Your Order