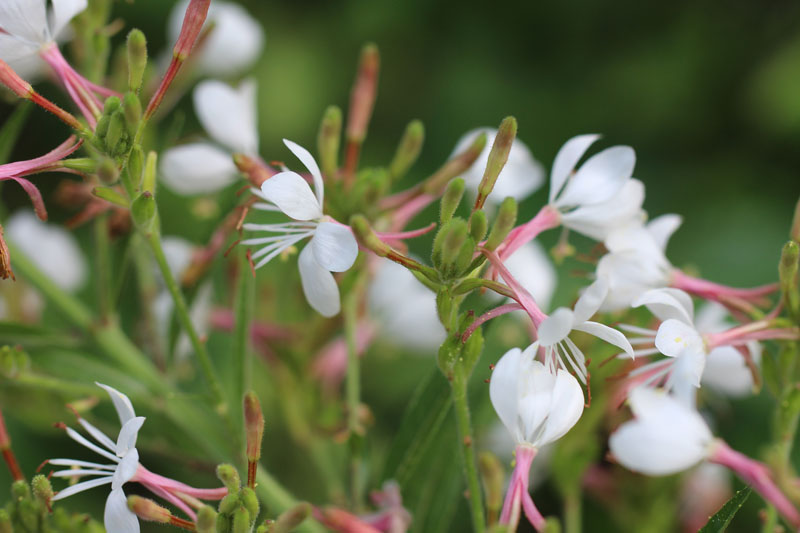 Long flowering downy wands produce long-tubed 1/2 inch wide white flowers (that change to pink as they age) from June through October and sometimes well into November, the flowers open a few at a time resulting in a long bloom period on each wand, the basal leaves can form a rosette as much as 2 feet across but the leaves on the flowering wand are tiny, often found where soil is moist but will tolerate dry conditions (even clay & gravel), good pollen and nectar source, self-sows readily. Note: this plant is a BIENNIAL.

2-5 foot tall
Plant Hardiness Zones: 4b-8b
Biennial

Native Range: Labrador west across s. ON to WA, south to NM & FL
Germination - Easy:: Cold stratify 8 weeks.
Biennial Beeblossom Seed Packet $4.00 (Temporarily Sold Out*)

*We normally carry this item but are temporarily sold out. We expect to have it available again as soon as our plants in production reach sufficient size/maturity or we harvest more seed. In some cases, plants may be recovering from caterpillar damage (Monarchs love our Milkweed), wind or hail damage, rampaging woodchucks, downed trees, or other natural issues. We are constantly updating our web site so please check back again.
Review or Finalize Your Order