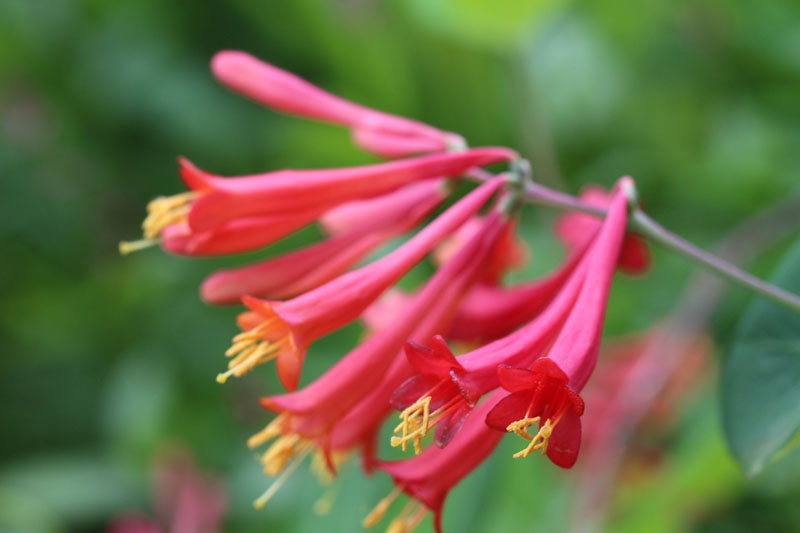 This remarkable climbing woody vine bearing whorls of slender red 2 inch trumpet-shaped flowers with deep yellow throats just blooms on and on from April through September (and even longer in the deep south), berries that follow turn a bright red in the fall, deep green roundish leaves are 1.5-3 inch and almost bluish, attracts hummingbirds, evergreen in the southern part of its range, host plant for both the Spring Azure (Celastrina ladon) and the Snowberry Clearwing (Hemaris diffinis). This showy vine is not invasive like its introduced relative Japanese Honeysuckle and it climbs loosely without strangling. A favorite of Thomas Jefferson. 2014 VA Wildflower of the Year (VA Native Plant Society).

to 15' tall (supported)
Plant Hardiness Zones: 4a-9b
Woody Vine
Deer Resistant
Native Range: s. Maine, New York & s. Iowa, south to e. Texas & c. Florida. Rare in ME & IA
Coral Honeysuckle in a gallon pot $19.75 (Temporarily Sold Out*)

*We normally carry this item but are temporarily sold out. We expect to have it available again as soon as our plants in production reach sufficient size/maturity or we harvest more seed. In some cases, plants may be recovering from caterpillar damage (Monarchs love our Milkweed), wind or hail damage, rampaging woodchucks, downed trees, or other natural issues. We are constantly updating our web site so please check back again.
Review or Finalize Your Order