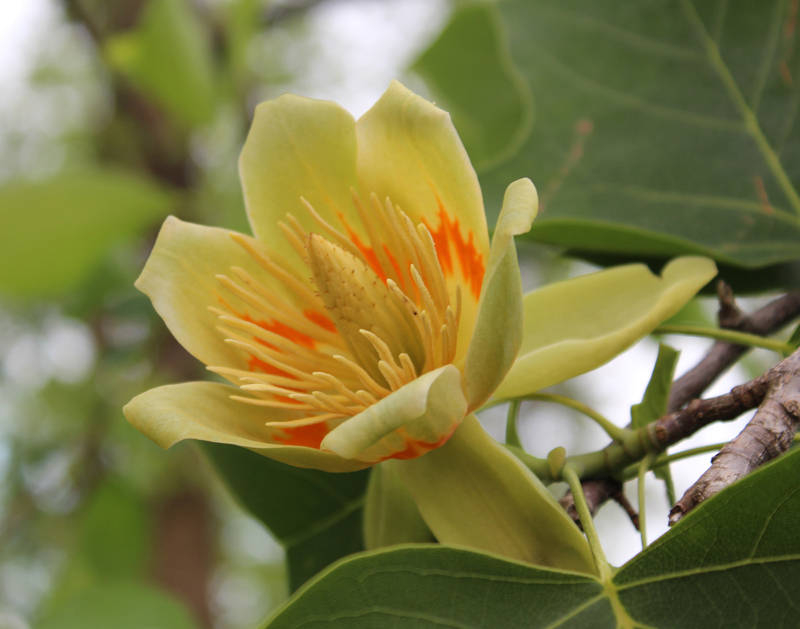 Amazing and huge tulip-like orange and lime green showy flowers high in the canopy May through June belie the fact that this is not a true poplar at all - but rather a rapidly growing giant of the Magnolia family, the tallest native tree east of the Mississippi, upright cone-like seedheads persist into fall, distinctive 4-pointed waxy smooth leaves turn golden yellow in fall, grows very straight and tall, great nesting tree, nectar attracts hummingbirds and honey bees, host plant for Tuliptree Silkmoth (Callosamia angulifera) and EasternTiger Swallowtail (Papilio glaucus) caterpillars.

70-120 foot tall (30-60 foot wide)
Plant Hardiness Zones: 5a-9b
Tree
Native Range: VT, s. ON, & MI, south to c. FL & LA
Tulip Poplar < 6 inch in a quart pot $12.75 (Temporarily Sold Out*)
Tulip Poplar 1-2 foot in a quart pot $18.75 (Temporarily Sold Out*)

*We normally carry this item but are temporarily sold out. We expect to have it available again as soon as our plants in production reach sufficient size/maturity or we harvest more seed. In some cases, plants may be recovering from caterpillar damage (Monarchs love our Milkweed), wind or hail damage, rampaging woodchucks, downed trees, or other natural issues. We are constantly updating our web site so please check back again.
Review or Finalize Your Order