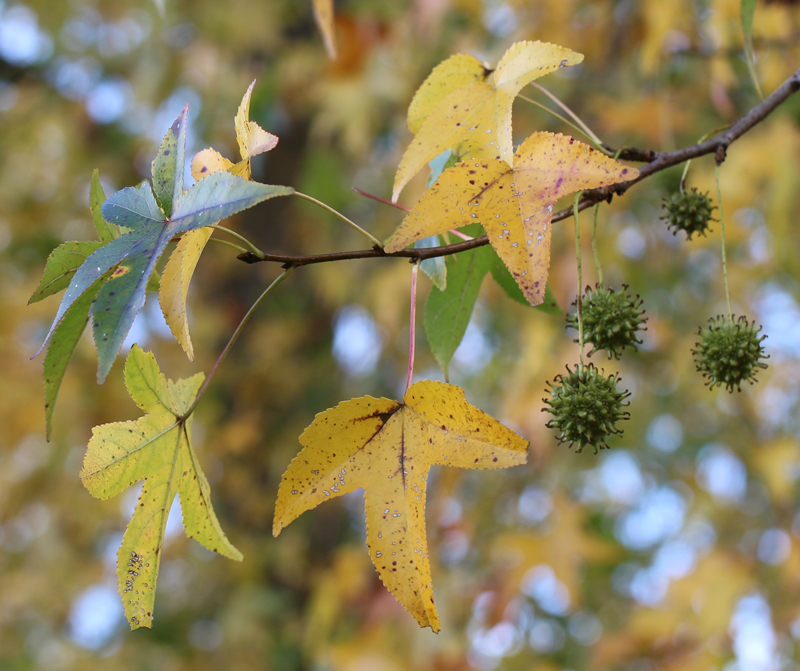 There are so many interesting features of this wonderful native tree! In the spring the male flowers look like little 2 inch Christmas trees out of a Dr. Seuss book, less showy female flowers produce large (1 inch) spiked seed capsules called 'gumballs' which change from green to brown over the summer months then persist into the winter for a uniquely ornamental effect as they swing in the wind, star shaped glossy green leaves turn beautiful colors in fall (red, orange, yellow & burgundy!), dark twigs & branches develop corky wing-like growths, both leaves & stems are fragrant if injured, young trees will take a couple of years to settle in before growing up to 2 feet a season under good conditions (sunny and moist), seeds a favorite of finches, host plant to the amazing Luna Moth caterpillar (Actias luna). OK - so I grew up on "Gumwood Dr." where we had lots and lots of these trees, so maybe I am particularly nostalgic about them! Not only did we enjoy the wonderful shade and fall color, my brothers and I got to experience the exquisite (painful?!) sensation of stepping on gumballs barefoot (!) and play games pelting each other with the ever present ammo! Truly an underused and underappreciated tree - there are sterile cultivars available now that produce few if any 'gumballs' but it seems to me that losing the ornamental contribution of them takes away much of the unique character of this beautiful tree!

60-100 foot tall (30-70 foot wide)
Plant Hardiness Zones: 6a-10b
Tree
Deer Resistant
Native Range: MA & se NY west to OK & s. MO, south to e. TX & c. FL. Rare in CT
Germination - Easy: Cold stratify 8 weeks, followed by very bright light.
Sweetgum 6-12 inch in a quart pot $14.25 (Temporarily Sold Out*)

*We normally carry this item but are temporarily sold out. We expect to have it available again as soon as our plants in production reach sufficient size/maturity or we harvest more seed. In some cases, plants may be recovering from caterpillar damage (Monarchs love our Milkweed), wind or hail damage, rampaging woodchucks, downed trees, or other natural issues. We are constantly updating our web site so please check back again.
Review or Finalize Your Order