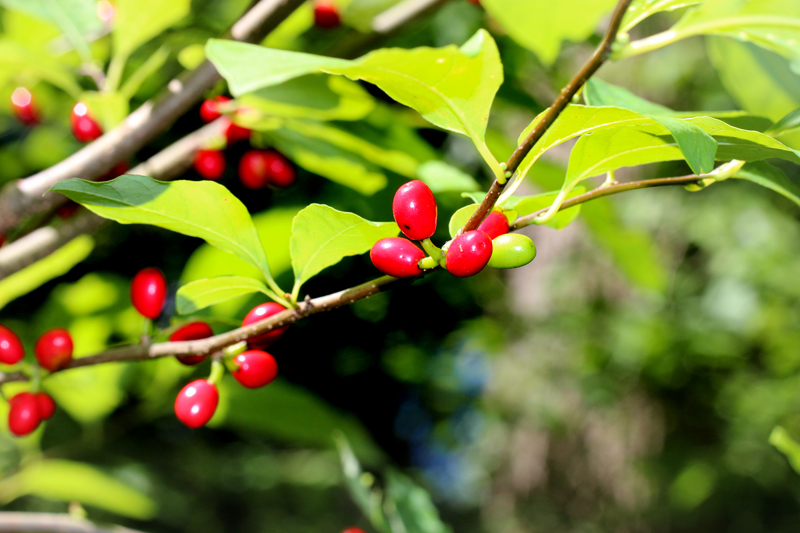 Extraordinarily multi-stemmed oval woody shrub surprises us with dense clusters of little fragrant honey-yellow flowers up & down the branches in the early spring before leaves come out (March through May), 1/2 inch green fruits develop & turn bright red in the fall just as the 5 inch oval blue-green leaves are turning bright yellow, the fruit disappears shortly after the leaves fall - they have a high fat content and are eagerly consumed by songbirds, leaves (and fruits and stems) have a lovely spiced aroma when crushed (the scent is rumored to have insect repellant properties!), great early season nectar source for bees and other insects, host plant for Spicebush Swallowtail Butterfly caterpillars(Papilio troilus), This is a great understory shrub with all season interest - even the winter silhouette is attractive! Since they come in both male & female plants it is best to get a couple to ensure you get a female for fruit set (our plants are not old enough to be sexed yet!). Place these in rich soil & take care to water them carefully the first season to help them establish.

8-15 feet tall (6-15 feet wide)
Plant Hardiness Zones: Zone 4a-9b
Woody Shrub
Native Range: Me to s ON, south to TX & FL. Rare in ME
Northern Spicebush - up to 6 inch tall in a quart pot $13.75 (Temporarily Sold Out*)

*We normally carry this item but are temporarily sold out. We expect to have it available again as soon as our plants in production reach sufficient size/maturity or we harvest more seed. In some cases, plants may be recovering from caterpillar damage (Monarchs love our Milkweed), wind or hail damage, rampaging woodchucks, downed trees, or other natural issues. We are constantly updating our web site so please check back again.
Review or Finalize Your Order