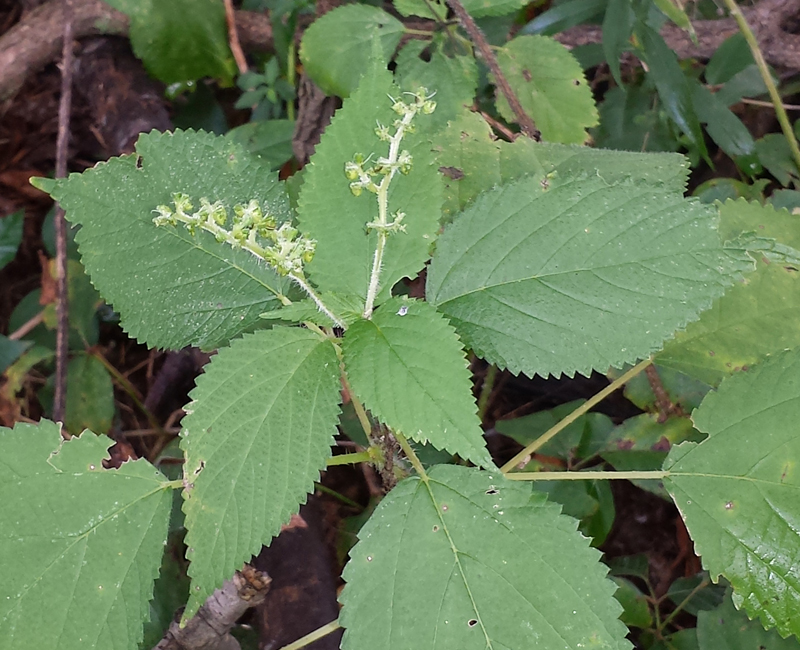 Stems and leaves of this plant are covered sparsely with stinging hairs, so it's best to wear gloves when handling this species. Male and female flowers may both appear on the same plant, but the female flowers are green and subtle. Male flowers create loose, feathery spikes of white which can be quite showy in July-August. Fruits are easily overlooked, appearing as loose pyramids of dry seeds around September. Tolerates pollution and occasional flooding, tends to form small colonies in low woodlands and along streambanks. Wood nettle is an important host plant of native butterflies, including Red Admirals, and the flowers attract both native bees and butterflies. Interior fibers have been historically used to make cloth, and when boiled thoroughly, the shoots have been used as an edible vegetable.

1.5 to 4 foot tall
Plant Hardiness Zones: Zone 2b-9a
Perennial
Deer Resistant
Native Range: ME south to FL, west to LA and north to ND. Native to Canada in SK, MB, ON, QC, NB and NS.
Germination - Easy: Cold Stratify 8 weeks.
*We normally carry this item but are temporarily sold out. We expect to have it available again as soon as our plants in production reach sufficient size/maturity or we harvest more seed. In some cases, plants may be recovering from caterpillar damage (Monarchs love our Milkweed), wind or hail damage, rampaging woodchucks, downed trees, or other natural issues. We are constantly updating our web site so please check back again.
Review or Finalize Your Order