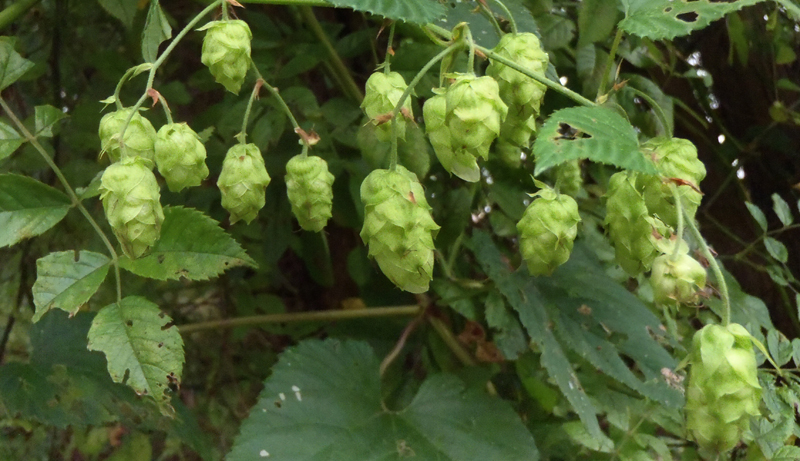 Yes- there is a North American native hop! These vines grow quickly & in August female plants produce fabulous hanging cones that are quite ornamental, dioecious (male & female flowers are produced on separate plants), large (4x6") divided leaves with 3 to 5 lobes, grows from sturdy rhizomes, entire vines (technically 'bines') die back to the ground each fall to regrow in the spring, tolerant of gravelly & poor soil, host for several Butterflies & Moths including the Red Admiral, (Vanessa atalanta) Question Mark, (Polygonia interrogationis), Comma, (Polygonia comma), and the Beautiful Wood Nymph, (Eudryas grata), a very robust vine. Not to be confused with the invasive annual Japanese Hops (Humulus japonicas).

to 30' tall (supported)
Plant Hardiness Zones: 3a-8b
Perennial

Native Range: NS across s CN to AB to OK, south to UT, KS, & GA
Germination - Easy: Cold stratify 4 weeks
Common Hop
Seed Packet
$4.00
(Temporarily Sold Out*)
*We normally carry this item but are temporarily sold out. We expect to have it available again as soon as our plants in production reach sufficient size/maturity or we harvest more seed. In some cases, plants may be recovering from caterpillar damage (Monarchs love our Milkweed), wind or hail damage, rampaging woodchucks, downed trees, or other natural issues. We are constantly updating our web site so please check back again.
Review or Finalize Your Order