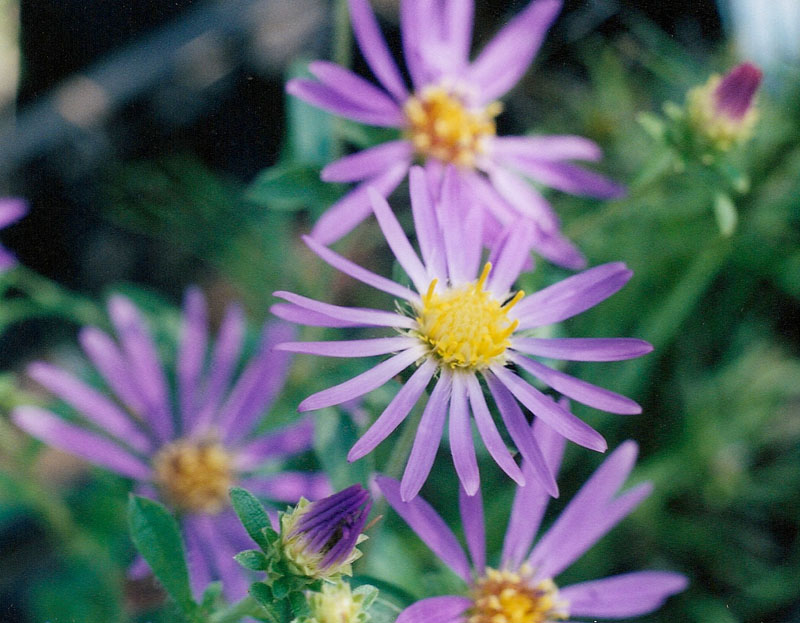 An exceptionally beautiful aster of coastal plains, dry clearings, and sandy woods, Eastern Showy Aster produces gorgeous clusters of large purple flowers with yellow centers from August-October , turning to brown tufts of wind-dispersed seeds in late fall. Leaves are firm, almost tough, and generally lanceolate, with a slight bluish cast that compliments this plant's slightly reddish stem. Tolerates drought, dry conditions, salt, and sand, actually preferring sandy soil. Attracts butterflies and many types of bee-particularly useful to pollinators because this species tends to flower until forced to stop by frost. Spreads slowly by rhizomes to form modest clumps, and is quite a bit shorter than many species of aster, which makes it an excellent plant for any average to dry garden, especially if you're planting for pollinators.

1-2' tall
Plant Hardiness Zones: 4b-8a
Perennial
Native Range: e MA south along the coastal states (skipping FL) to AL. Rare in CT, NY, PA, DE, MD, VA, NC, SC, GA, & AL
Eastern Showy Aster in a 3.5 inch pot $11.25 (Temporarily Sold Out*)

*We normally carry this item but are temporarily sold out. We expect to have it available again as soon as our plants in production reach sufficient size/maturity or we harvest more seed. In some cases, plants may be recovering from caterpillar damage (Monarchs love our Milkweed), wind or hail damage, rampaging woodchucks, downed trees, or other natural issues. We are constantly updating our web site so please check back again.
Review or Finalize Your Order