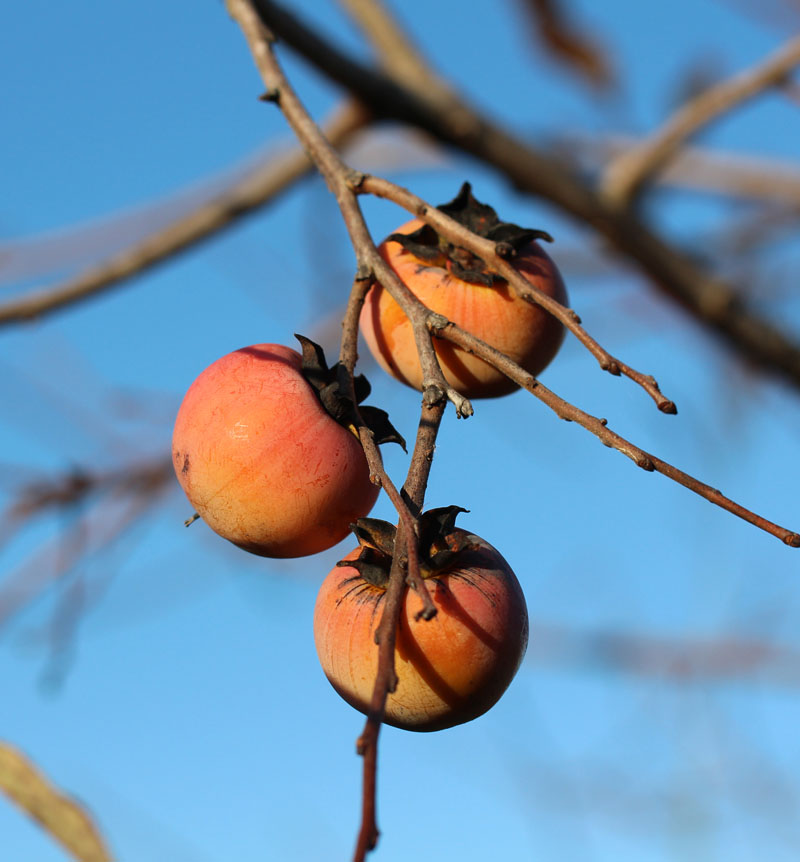 An attractive (and underused!) small to medium sized deciduous tree with a broad rounded crown and nice branching habit that looks good even in the winter, fragrant yellow-green urn-shaped flowers (female 3/4 inch borne singly, male 1/2 inch borne in clusters of 3) attract a multitude of pollinators, excellent source of nectar for honey bees, deliciously sweet and spicy orange to purple fruits (huge berries about 1 inch across!) with a waxy bloom appear on female trees, fruits soften and ripen after the first hard frost but until then are loaded with tannins and are extremely (!!!) astringent, simple 3-6 inch long dark green glossy leaves turn red to orange to gold to purple in the fall (kind of variable!), fruits hang on after the leaves drop in the fall creating a terrific look, eventually fruit falls to the ground where it is eagerly scavenged by wildlife (raccoons, mockingbirds, wild turkey, bear, etc.), mature trees develop thick bark with a distinctive alligator-like pattern of charcoal gray scaly blocks, trees begin flowering when 5 to 7 years old, best transplanted when young - mature plants develop a very deep root system which make them very tolerant of a whole host of bad conditions (drought, flood, poor soil, shade, wind) though they grow best in fertile soil, very dense wood, fruit makes a great jam, host plant to the amazing Luna Moth caterpillar (Actias luna), suitable for bonsai (!). Since they come in both male and female plants it's best to get a couple to ensure you get a female for fruit set (our plants are not old enough to be sexed yet).

30-50 feet tall, 15-25 feet wide
Plant Hardiness Zones: Zone 5a-9b
Tree
Native Range: e. MA, s. CT, se NY, NJ & s. PA, west to e. NE & south to FL & e. TX. Rare in CT, NY
Persimmon < 6 inch in a quart pot $14.75 (Temporarily Sold Out*)

*We normally carry this item but are temporarily sold out. We expect to have it available again as soon as our plants in production reach sufficient size/maturity or we harvest more seed. In some cases, plants may be recovering from caterpillar damage (Monarchs love our Milkweed), wind or hail damage, rampaging woodchucks, downed trees, or other natural issues. We are constantly updating our web site so please check back again.
Review or Finalize Your Order