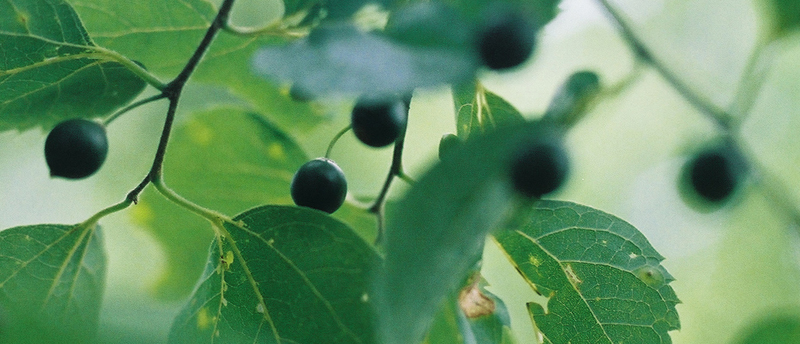 A majestic & versatile shade tree, inconspicuous small greenish flowers are followed in the fall by persistent small (1/4 inch) hard orange to dark purple/red sweet fruits that are a favorite of many birds (including fox sparrows, towhees, robins, cedar waxwings, bluebirds and mockingbirds) and are eaten through the winter by non-migratory birds (it's a good nesting tree too!), finely toothed 4 foot tapering leaves, attractive large corky warts and ridges develop on the bark, mature trees have elm-like shape with a fine branching habit, tolerant of tough conditions such as high acid soil, drought, air pollution, constant wind, salt spray and short term flooding (once established), host plant for caterpillars of many butterflies including the Hackberry Emperor (Asterocampa celtis), Tawny Emperor (Asterocampa clyton)), Question Mark (Polygonia interrogationis)), Eastern Comma (P. comma)), Mourning Cloak (Nymphalis antiopa)) and American Snout Butterfly (Libytheana carinenta)), fast growing under favorable conditions, suitable for bonsai (!). Give these plants some shade for the first few years after transplanting to help them establish - they take a year to two to adjust before they put on a growth spurt.

up to 80 feet tall & 40 to 60 feet wide
Plant Hardiness Zones: 3a-8a
Tree

Native Range: s. ON & QC, NH south to n. FL & e. NM. Rare in NH
American Hackberry - 6-12 inch tall in a Quart pot $14.25 (Temporarily Sold Out*)
American Hackberry - 1-2 foot tall in a Quart pot $17.25 (Temporarily Sold Out*)

*We normally carry this item but are temporarily sold out. We expect to have it available again as soon as our plants in production reach sufficient size/maturity or we harvest more seed. In some cases, plants may be recovering from caterpillar damage (Monarchs love our Milkweed), wind or hail damage, rampaging woodchucks, downed trees, or other natural issues. We are constantly updating our web site so please check back again.
Review or Finalize Your Order