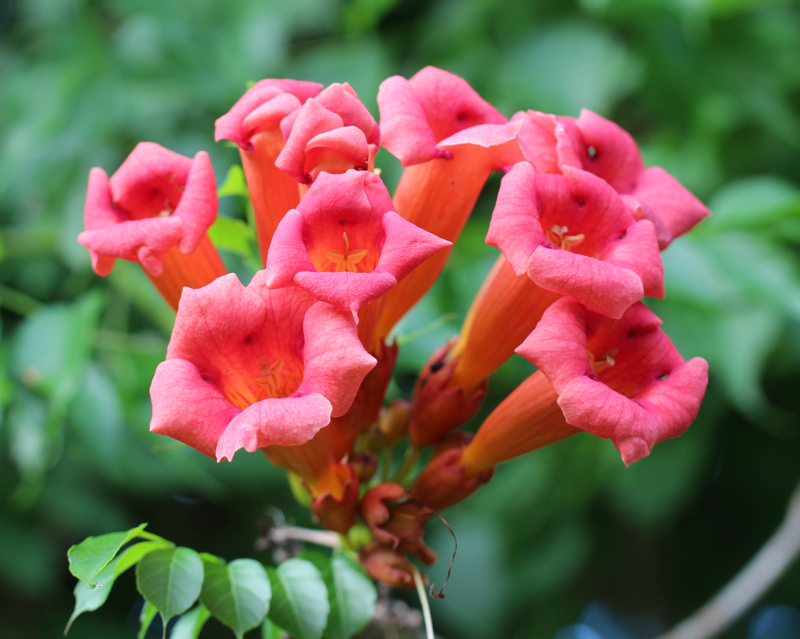 Bright reddish-orange 3 inch trumpet-like flowers adorn this vigorous woody native vine from July through September producing 6 inchlong persistent seed pods, large leaves consist of 7-11 toothed leaflets each 2-3 inch long, attracts hummingbirds like crazy, drought tolerant, can grow aggressively in the south, host plant for Plebeian sphinx, caterpillars (Paratraea plebeja).

to 20 foot (supported)
Plant Hardiness Zones: 4a-10b
Woody Vine

Native Range: Newfoundland across s. Canada, south to FL, east TX & UT, with additional isolated populations in CA & WA
Germination - Moderately Difficult: Cold Stratify 6 weeks
Trumpet Creeper
Seed Packet
$4.00
(Temporarily Sold Out*)
*We normally carry this item but are temporarily sold out. We expect to have it available again as soon as our plants in production reach sufficient size/maturity or we harvest more seed. In some cases, plants may be recovering from caterpillar damage (Monarchs love our Milkweed), wind or hail damage, rampaging woodchucks, downed trees, or other natural issues. We are constantly updating our web site so please check back again.
Review or Finalize Your Order