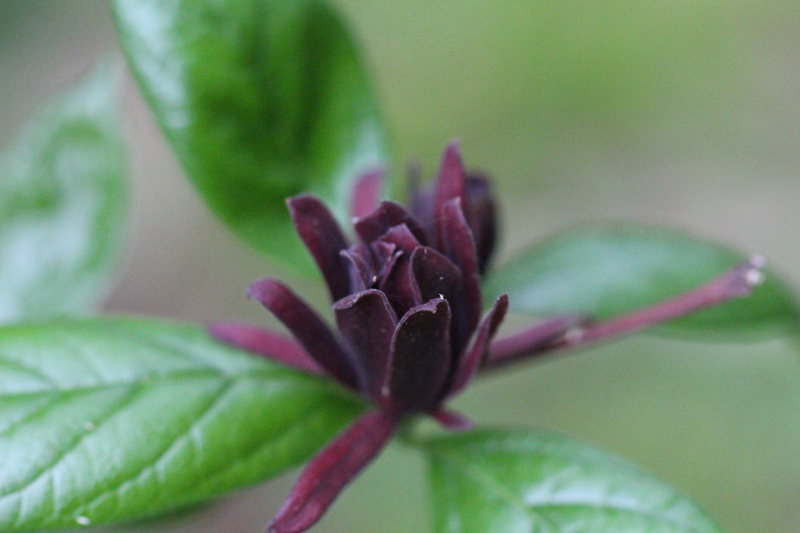 A striking, fragrant shrub which produces fascinating maroon flowers with strap-like petals from April to July (appearing before the leaves do in spring!), this plant also has immensely handsome dark-green leathery leaves which can be quite glossy. It's resistant to disease and insect problems, and tolerant to clay, sand, acid and alkaline soil types, as well as occasional drought or flooding. Beautiful also in the fall, when the leaves take on an impressively showy yellow-green shade, Carolina Allspice is most well-known for its scent: although the bark and leaves certainly have a sweet smell when disturbed (somewhere between cinnamon and sherbet), the flowers themselves produce a wonderful fragrance that gets stronger in warm weather, and has been described as a combination of pineapple and strawberry. Has a somewhat rounded growth habit, usually about as wide as it is tall, and produces many suckering stems.

6-9 feet tall
Plant Hardiness Zones: 5a-9a
Woody Shrub
Deer Resistant
Native Range: Bordered on the north by NY and MA, southward down the East Coast to FL, westward to TX, and including the non-coastal states of MO, IL, TN, KY, WV, OH, and PA. Rare in VA, WV, KY, IL, FL, and TX, considered extirpated in OH
Carolina Allspice 6-12 inch in a gallon pot $17.00 (Temporarily Sold Out*)

*We normally carry this item but are temporarily sold out. We expect to have it available again as soon as our plants in production reach sufficient size/maturity or we harvest more seed. In some cases, plants may be recovering from caterpillar damage (Monarchs love our Milkweed), wind or hail damage, rampaging woodchucks, downed trees, or other natural issues. We are constantly updating our web site so please check back again.
Review or Finalize Your Order