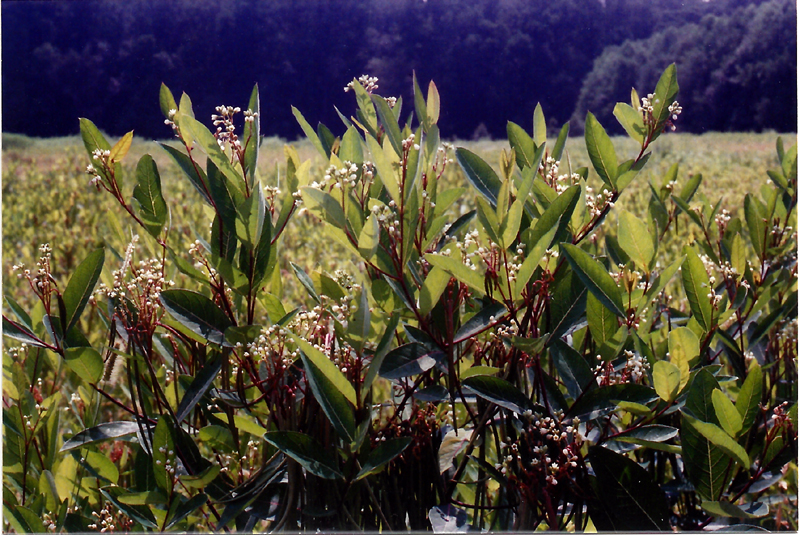 White 1/4 inch flowers from May through August develop into clusters of paired long narrow 5 inch spindle-shaped seed pods, glossy blue/green ovate leaves up to 6 inch long have a whitish bloom to them, sturdy upright stems often have a reddish cast and grow almost shrub-like, develops a tap root and spreads very readily by lateral rhizomes, tolerates very poor and/or gravely soils, attracts Butterflies, caterpillar host to the Snowberry Clearwing (Hemaris diffinis), Six-spotted Gray (Spargaloma sexpunctata), & Dogbane Tiger Moth Butterfly (Cycnia tenera). An excellent fiber plant.

2-4 foot tall
Plant Hardiness Zones: 1-10b
Perrenial
Deer Resistant
Native Range: NL to NT & BC south to s. CA, TX and n. FL
Germination - Very Easy: No treatment. Surface sow or lightly cover.
*We normally carry this item but are temporarily sold out. We expect to have it available again as soon as our plants in production reach sufficient size/maturity or we harvest more seed. In some cases, plants may be recovering from caterpillar damage (Monarchs love our Milkweed), wind or hail damage, rampaging woodchucks, downed trees, or other natural issues. We are constantly updating our web site so please check back again.
Review or Finalize Your Order