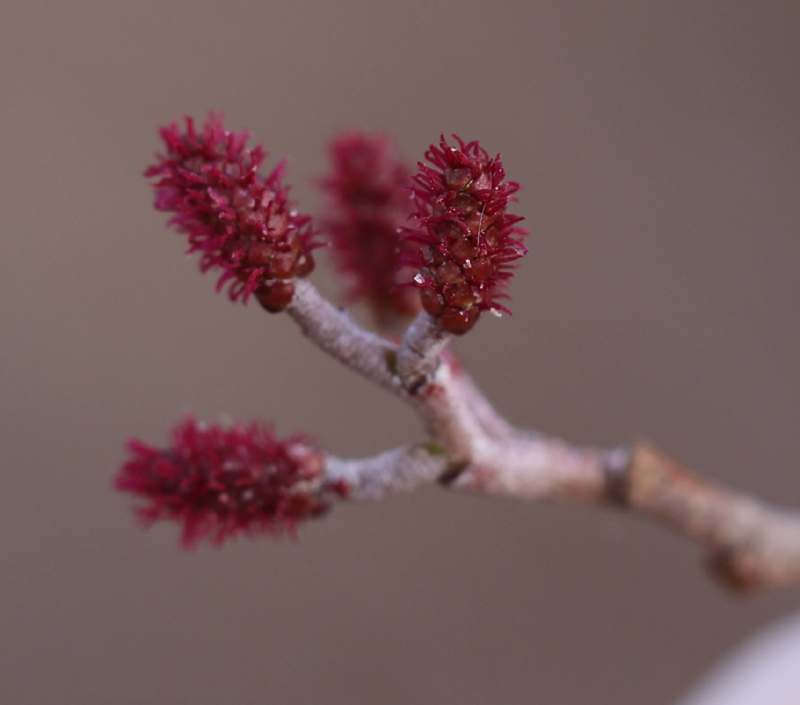 Clusters of yellow/amber male catkins up to 4 inch long pair with 1/2 inch long erect red female flowers at the branch tips from March through April, seed-bearing woody cones which persist through the winter, broad simples leaves look almost Beech-like, shallow root system fixes nitrogen and stabilizes erodible soil (as along a stream bank), can tolerate occasional inundation, smooth gray bark, multi-stemmed habit, clay tolerant, high wildlife value, provides food & cover for waterfowl, good nesting site and seed source for song birds, prefers acid soil, perfectly at home in poor, rocky, sandy or boggy soil. Due to this plant's ability to host woolly aphids (Prociphilus tesselatus) it is often home to the rare and unusual predatory caterpillars of the Harvester Butterfly (Fenisca tarquinius). Also host to the Mourning Cloak (Nymphalis antiopa) and a variety of interesting moths including the Luna Moth caterpillar (Actias luna) and the Arched Hooktip (Drepana arcuate).

10 to 20 feet tall (8-15 feet wide)
Plant Hardiness Zones: Zone 4a-9a
Woody Shrub
Native Range: QC and NB south to n. FL, west through s. IL to MO and e. TX
Germination - Easy: Cold stratify 12 weeks.
Review or Finalize Your Order